Drive loyalty and motivation in travel & hospitality
The travel and hospitality industry is competitive and tough. You will need to attract travellers and tourists to your airline, city, hotel or restaurant. Then make sure they have an experience they want to repeat. Or even better, an experience they want to share with all their friends and relatives.
Create your own gamification strategy to help your employees deal with difficult situations. Ensuring they are up to date with the latest information. That they practice new skills. That they change their behaviour to improve performance.
Give your customers a boost of motivation to engage with your brand. Create an innovative rewards program using tier progressions, achievements, leaderboards and real-time feedback.
Benefits of gamification in travel & hospitality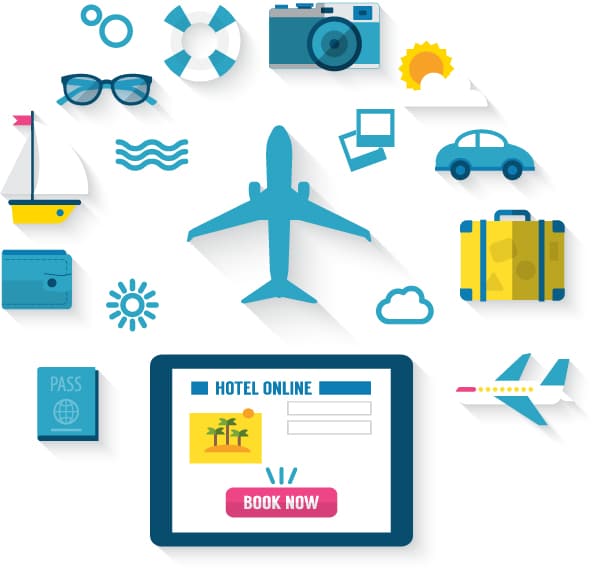 Ensure traveller interest and participation

Involve travellers in digital content

Reinforce important information and behaviours

Track employees and travellers activities

Drive new and returning travellers to your place

Improve performance in call centres, marketing, sales team, or any other sector of your company

Improve quality of existing software

Speed up onboarding process
Gamification examples in travel & hospitality
Deliver meaningful orientation and training
Encourage the development of specific skills with an eLearning course. Teach employees how to best satisfy a hotel guest or a restaurant client. Engage clients to give reviews to level up their status. Give points for completing desirable behaviours.
---
Provide outstanding customer service
Level up your contact center's performance and increase customer satisfaction. Help employees to achieve goals, reward their efforts and measure their results to reduce absenteeism, average hold time, average abandonment rate, and agent turn-over.
---
Track employee performance
Transform your company with insights that boost growth and productivity. Allow managers to have periodic performance updates about employees. Associate goals with metrics. Find out what happened. Why it happened. And what will happen in the future.
---
Personalise travel experiences
Accelerate purchasing decisions. Give travellers information based on their preferences. Then monitor activities and reward them in real time. Use game-like dynamics such as rewards, badges, competitions, leaderboards and status-building to engage them.
---
Increase tourism brand awareness
Offer the traveller the opportunity to benefit from a new discount or promotion. Give points when they share check-ins, travel tips or reviews. Create a loyalty program to support strategic objectives in tourism relationship marketing.
---
Create your personalised currency
Create a personalised currency to fit your brand. Reward travellers when they review your hotel, complete a location-based travel challenge or achieve the top contribution spot for the month. Redeem points for accommodation, tours, flights, upgrades, hotels or car hire.
---
See How Mambo Can Work For Your Business
Want to increase workforce productivity, measure activities and get more results?